All our Ford Protect Extended Service Plans provide our drivers with peace of mind even after their New Vehicle Limited Warranty ends. Take a look at our plans listed below, then let the professionals at Koons Sterling Ford know if you happen to have any questions. As always, look forward to hearing from you!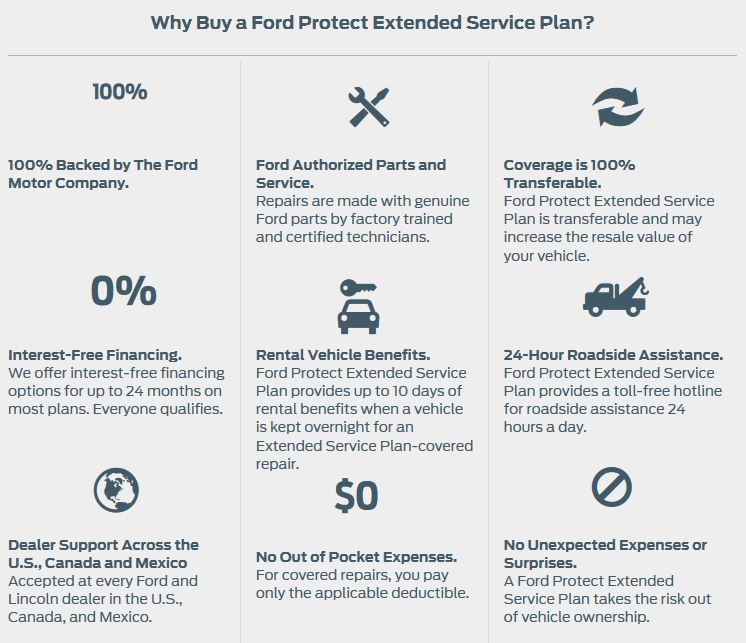 PremiumCARE - Over 1,000 Components Covered

The Ford PremiumCARE is our most comprehensive coverage out of the four. It covers the parts and labor needed to repair over 1,000 key components including the engine, steering, brakes, and more for up to eight years or 150,000 miles. It's safe to say, you'll have all your bases covered with this option.

ExtraCARE - 113 Components Covered

This plan is ideal for models with fewer high-tech components. The Ford Protect ExtraCARE provides coverage for anything that would impact drivability and your Ford's performance. It'll take care of most steering components from the water pump to the timing chain. It'll also cover brake components such as wheel cylinders, springs, calipers, and more.

BaseCARE - 84 Components Covered

BaseCARE will cover systems that impact your vehicle's drivability, which relates to most steering components. If for some reason you need additional coverage, our PremiumCARE plan includes coverage on more advanced steering components.

PowertrainCARE - 29 Components Covered
The Ford Protect PowertrainCARE will cover critical engine and transmission components such as major engine components, seals, and internal engine parts. It will also cover some components of the transmission, rear-wheel drive, and front-wheel drive.