Ford Military & First Responders Event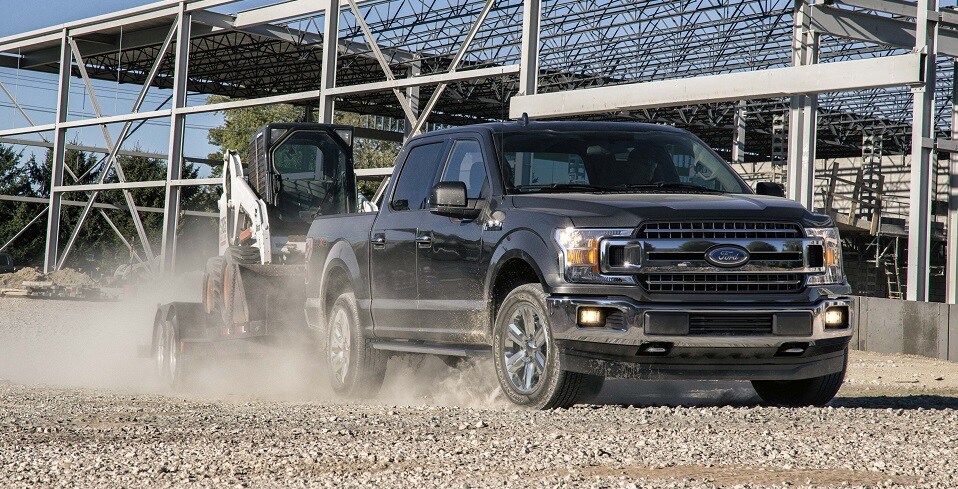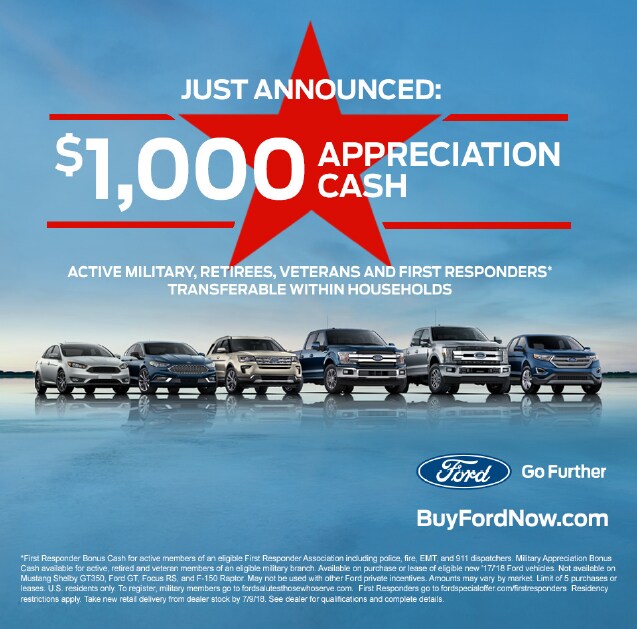 Koons Sterling Ford Celebrates Our Great Country's Military and First Responders with a Bonus!
We here at Koons Sterling Ford would like to, first of all, thank the brave men and women of our military and first responders for all of their service! You are the people who take on the toughest jobs when it comes to defending this great country of ours, and the people who live in it, here at home and abroad. This Memorial Day, we here at Koons Sterling Ford want to reward the hardworking men and women of our armed forces and first responders by offering them a special bonus toward their next all-new Ford car, truck or SUV. With our Military and First Responders Appreciation Bonus, all eligible men and women of our armed services and first responders, from nearby Chantilly to out in Ashburn, could receive $1,000 towards a brand-new Ford sedan, pickup truck, or crossover and up to $1,500 Appreciation Bonus Cash for 2019 F-150, 2019 Super Duty, and 2019 Ranger from Koons Sterling Ford!
Who is Eligible for This Bonus?
Active Duty Servicemen and Servicewomen: you can receive a $1,000 bonus, towards the purchase of a 2018-2019 Ford, if you are a current member of the US Armed Services; including Army, Navy, Air Force, Marine Corps, Coast Guard or National Guard. This bonus is transferrable to a spouse or other family member.
Veterans: all veterans are eligible for this offer from May 15, 2019 through July 9, 2019. Veterans within two years of separation, excluding dishonorable discharge will continue to qualify after July 9, 2019.
Retirees: A former member of a uniformed services division who is eligible to collect retirement and pension benefits; this typically requires 20 years of service.
Reservists: must be on orders to deploy or a veteran within 24 months of separation
First Responders: typically includes firefighters, police officers, emergency medical technicians (EMTs) and 911 dispatchers
What Kind of Ford Can I Get?
Lots of you might be asking this and, the answer is that there aren't too many limits as long as it's a 2018-2019 model. Whether it's a Ford Explorer, Ford Expedition, Ford F-150 or Ford Taurus, there's a lot to choose from in our inventory of all-new Ford models. There are a few trims of certain models that are disqualified, such as the Mustang Shelby GT350, Ford GT, Focus GT and the Ford F-150 Raptor.
Koons has a Reward for the Military Personnel and First Responders of Herndon!
The brave men and women of our armed forces and first responders deserve a reward for their exemplary service in aiding this country, both at home and abroad. Here at Koons Sterling Ford, we want to give back to them by offering tons of savings towards their next Ford model! So, come on down to Koons Sterling Ford and see if you qualify for our Military and First Responder Appreciation Bonus! We're located right here in Sterling and we're proudly serving the Manassas and Fairfax areas as well. If you have any questions about this bonus, or any of the all-new Ford models in our inventory, don't hesitate to give our sales team a call at (800) 796-2075 during regular business hours!