Koons Sterling Ford Strut and Shock Repair
Put an end to bouncy braking and turbulent speed bumps, look to Koons Sterling Ford for all your strut and shock repair needs! Whether you're an Ashburn driver that's looking for a more stable commuter ride or you're a Chantilly driver that's looking to get ahead of a potential shock problem, the Koons Sterling Ford team is ready to help! Our team of seasoned service professionals is prepared to assist with nearly any and all your shock and strut repair needs!

Shock and Strut Repair Symptoms
There are a few notable signs that can help Ashburn and Herndon drivers decide on whether it might be time for a shock and strut inspection. One of the most common signs of aging shocks or struts is a bouncy ride. If you noticed a heavy bounce when going over speed bumps or potholes, your shocks are likely in less than ideal condition. Another noticeable aspect of worn struts or shocks comes with braking. Indeed, if the nose of your car seems to dive forward when stopping, your struts/shocks are likely in need of service attention.

Shock & Strut Repair/ Replacement Symptoms
Dented or damaged shock/body
Fluid leaks
Cupped tires
Continued bounce after going over holes or speedbump
Heavy nosedive while braking
Bumpy/harsh ride quality
Poor steering
Shock and Strut Service at Koons Sterling Ford
Our team of seasoned professionals is ready to assist drivers from Manassas to Sterling - and beyond - with an array of service needs. Whether you're looking to bring your vehicle in for a routine checkup or you know the exact service you'd like performed, our team of technical experts is ready to help! Call, stop by, or schedule a service appointment through our online service center!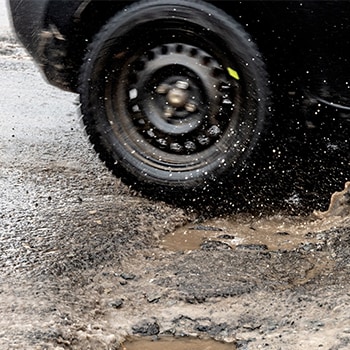 We're sorry, we do not currently have any specials published. Please check back soon or contact us for more information.